Sugar Creek Puppies - Testimonials
Here's what a few of our customers have had to say about us.
Have a testimonial of your own to share?
Send a Testimonial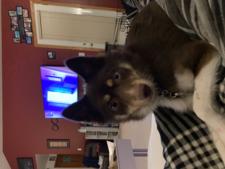 Toni Poston
Spring 2020 - Bettendorf, Iowa
From the initial conversation to setting up time to come up and see the puppies to the return trip to do a vaccination Amy and Sugar Creek have been amazing. We had been wanting a pet for a long time when we found them. I immediately fell in love with Oliver the first puppy she brought out, l spent time with more but it had to be Oliver. As soon as he was old enough to come home we went back and got him. Meanwhile Amy kept us updated with pictures, current weight and overall how he was doing. I would HIGHLY recommend anyone looking for a Pomsky to visit SugarCreek.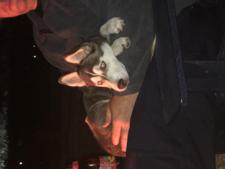 Alston Family
Fall 2020 - Davie, FL
Our family decided it was time for a new puppy after our last dog passed in 2018. My husband and I have been lifetime dachshund owners and going for a new breed was a big step, more me than him. After our daughter saw a Pomsky in 2019, she had her heart set on it being our new dog. After visiting a pet store to determine that a Pomsky was what my son wanted as well. After a few weeks of research and reading testimonials, I knew Sugar Creek was where we would get our next family member from. When our initial plan to pick a puppy from the available June puppies (no deposit had happened yet) couldn't happen because of a COVID exposure, Amy was very understanding. We got on the list for the next litter. She gave us the news of the puppy births the same day they were born. When it came time to pick out which puppy we wanted, we had a list of 3 that we couldn't decide upon, she did a family FaceTime so we could see how they interacted both with other puppies and with her. She was so easy to work with, and made pick up at the airport a breeze! FYI if you decide to get the puppy yourself, Cedar Rapids is VERY small and easy to do a quick turn on the same plane if you're quick! I wish I had known this and could've had a 30-45 min between flights instead of the 3+ hour wait. Bebe was super easy to travel with. She adapted almost immediately with our family and learned her new name of Winter within days. I don't know what Magic Amy uses at home, but Winter was 80% potty trained! She learned to use potty bells at the door in less than a week to let us know she needed to go out! What surprised us the most was that it took almost 4 months before we finally heard her bark! (Doxies bark at everything!) Winter is the best thing that happened for our family in 2020. When asked where we got her, I proudly say "farm raised from Sugar Creek Puppies in Iowa!"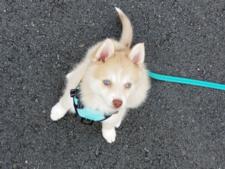 Brockman Family
Fall 2020 - Reston, VA
We are absolutely in love with our Luna! She is the sweetest pup, and working with Amy was such a great experience. Super helpful, and you can tell how much she cares for all her pups! Thank you again!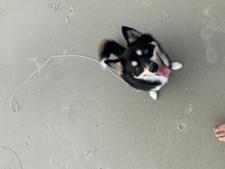 Haley V
Fall 2019 - TN
We are so pleased with our precious Pomsky puppy. From day one we have loved him and he's been the perfect addition to our family. Amy and Sugar Creek Puppies are so professional and made for a wonderful experience. I would recommend this dog breed and breeder to anyone!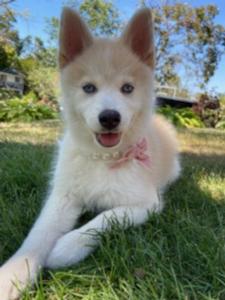 Sackett Family
Summer 2020 - Cedar Rapids, Iowa
WoW!! Amy and Sugar Creek have been AMAZING!! Amy knew it wasn't easy for our family to find a new fur-baby after we had our other two for 15 and 16 years, but she has been nothing but great to work with. The communication and updates have been wonderful and she has even followed up with us afterwards to see how everyone was doing. Bailey has been the perfect fit for our family. Everyone that meets her falls in love with her and they are so intrigued by the Pomsky breed. Our family is so happy that we came across the Pomsky breed and Sugar Creek Puppies. Amy helped fill a void in our family and with a family of five it wasn't an easy task. THANK YOU!! ps...Bailey says HI :) The Sackett Family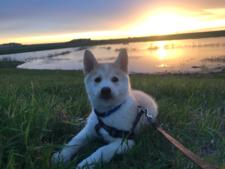 Brian and Dyan
Spring 2020 - Sheldon, IA
We had a fantastic experience with Amy and Sugar Creek Puppies. Amy went above and beyond to help us get to know Kovi before we picked him up. When we met him it was so obvious that Amy and the kids really worked with their dogs to ensure they are well socialized and healthy. Kovi is an intelligent and beautiful pup with a luxurious coat. He turns heads everywhere we go and is progressing well with his training.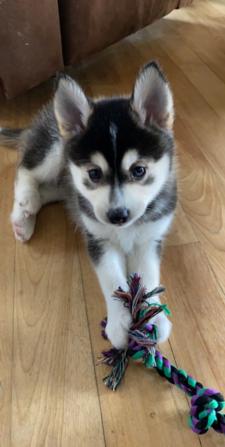 Ashley
Spring 2020 - Iowa City, IA
Our experience at Sugar Creek Puppies was awesome., Amy was wonderful with sending pictures and videos of our sweet puppy Brody! Amy was also very helpful with answering any questions we had! Brody is a very happy and healthy puppy. We are very excited we chose Sugar Creek Puppies to get Brody!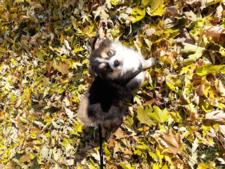 Amy R
Fall 2019 - Twin Cities, Minnesota
We have had our boy Georgie for nearly a month now and we could not be happier with what a sweet, smart and confident boy he is! He truly has completed our little family and I already cannot remember life without him. Our experience working with Amy / Sugar Creek Puppies was more than I could have asked for from a breeder. Amy was very open and thoughtful in the information she provided us about Georgie before we met him, sending us photos and videos and taking phone calls to answer any questions we had about his temperament and if he would be a fit in our home. She was extremely patient while we made our decision and was accommodating in transporting him to meet us . Amy has been so great about following up to see how he is adjusting in the time since we brought him home. I am very comfortable in recommending Sugar Creek Puppies to any good home looking for a new addition. It's very apparent that she truly cares about each puppy, not only from my interactions with her, but in how well socialized and behaved our sweet little boy is.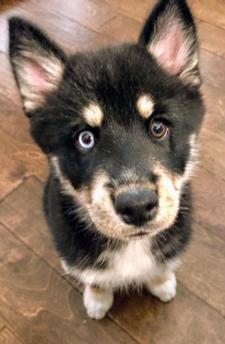 Rose
Fall, 2019 - Knoxville, TN
From the first contact with Amy until the moment we received our puppy our experience with Sugar Creek Puppies was amazing. Amy knew exactly what is needed, provided detailed information about transfer/flight, kept us in the loop the whole time, and even provided a paper with helpful information about Lani when she arrivied, what to expect, and do with our new puppy. Honestly, this experience and transaction was better and smoother than Amazon prime purchase. We had Lani for 10 days now and we are loving it. She is very smart, full of energy, and is always happy. Thank you Amy and Sugar Creek Puppies for our beautiful Lani!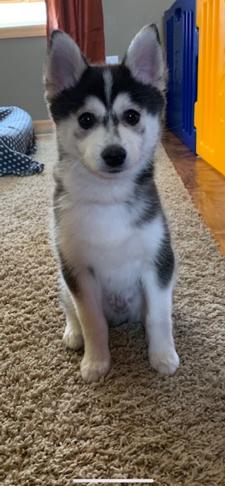 J. Hahns
Winter 2019 - Minneapolis, MN
Thank you to Amy and SugarCreek Puppies!!! We were nervous about getting a new dog and one that we would not be able to meet in person before taking him home. From the initial phone call inquiring about purchasing a new Pomsky Amy made us feel 100% comfortable. Amy kept us involved in every step of the process providing weekly photos, videos and updates that were personalized to us and talking us through the questions we had. After we got our puppy from Amy she has been available for any additional question we have had. I couldn't have asked for a better experience. Our boy Gunner is such a smart and well adjusted boy. He was potty trained by 11 weeks old and sleeps through the night in his crate since the 4th night we had him. He loves people and other animals (even our cat) and REALLY loves little kids!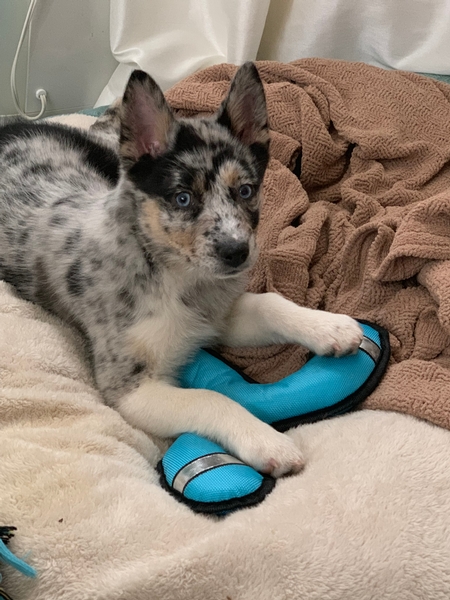 Gayla Pawlisa
Feb 2019 - Centralia Ill
What an amazing experience & life changing decision!! We've only had our little girl, "Mayhem" for a week, and she is the best dog ever! She's energetic, sweet, sooo smart, easy to train! We are in disbelief how good she obeys & listens!! I'm so thankful I found Amy!! She's a true animal lover & made the process so easy. She kept us updated with pics & videos while we eagerly awaited Mays arrival. If you're thinking of a Pomsky pet, I highly recommend Amy. Very trustworthy, dependable, caring, personable, professional & I knew when we brought our baby home, she had been very well taken care of!! We feel so blessed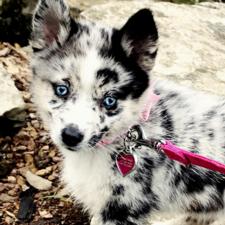 Amberly and Ryan Betz
Winter 2019 - Hendersonville, TN
Amy was so wonderful to work with and made the process so easy. She shared pictures and videos of our sweet Rue before she arrived and the communication exceeded our expectations. We just love our beautiful girl, Rue. We would recommend to anyone looking to add a pomsky to their family to get it from Amy with Sugar Creek Puppies!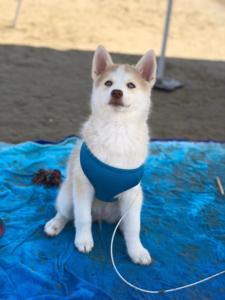 John & Serena
Summer/2018 - Rancho Cucamonga, CA
I'd like to share my experience with Sugarcreek Puppies as we became fortunate to find a breeder who really cares about each and every puppy they have. My wife wanted a small breed and I wanted a larger breed. She once showed me a photo of the Pomsky breed and I knew it was the perfect dog. In working with Amy, we found a beautiful female pup who has completely changed our lives for the best. Amy was wonderful to work with and like the other testimonials all mention, she is incredibly caring and thoughtful throughout the entire process. Once you have the puppy, she will continue to check in to make sure everything is good with you and your puppy. We feel fortunate to have found Amy and Sugarcreek Puppies and I would 100% highly recommend her to anyone interested in getting a Pomsky pup.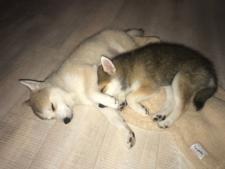 Ellie Forche
Summer 2018 - Los Angeles, CA
I have always been obsessed with the Pomsky breed and have done quite a bit of research. However, I never could find the exact puppy I was looking for before I came across Sugar Creek Puppies. They were the perfect blend of Husky and Pom! Amy was wonderful to work with and made the process of adopting our puppies so easy. We actually purchased two puppies from the same litter, Dakota and Delilah, and they have now become a part of our family. We love them very much, and they are the most lovable, playful, and adorable puppies I (and all of my friends) have ever seen!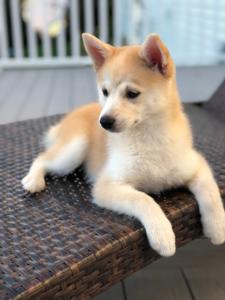 Eda Wong
September 2018 - Nashua NH
I was trying to look for a pomsky in where I live but couldn't find any locally. So I went online and found several out of state pomskies breeders. I do a lot of online purchases but I was apprehensive about purchasing a puppy online. I called and texted several breeders from different states and only a few responded. Among them I found Amy, the owner of Sugar Creek, was the best breeder I found very friendly and helpful. She answered all my questions and concerns. She sent me pictures and videos of Bella in a timely manner which helped me decided quickly that Bella is the puppy I wanted to have. Amy handled the whole transaction efficiently and professionally! She took care of all the details so I didn't have to worry about flying little Bella from Iowa to New Hampshire. Bella is such a wonderful and beautiful puppy that everyone in our family loves her dearly. Every time I take Bella for a walk, Bella receives compliments from strangers all the time. Thank you everyone at Sugar Creek Puppies for taking great care of these lovable adorable pomskies!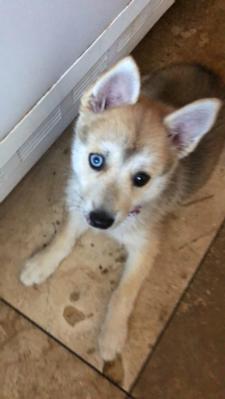 Moreno's
Fall 2018 - Riverside CA
We would like to say thank you to Sugar Creek Puppies for letting us bring one of their beautiful pups home to Casa Moreno. We really are thankful and appreciate the beautiful gorgeous pups they have produced. They are of superb quality and healthy. Amy is super nice and great to work with. She makes the transition as smooth as possible with what she can control on her end. Be patient as sometimes weather affects flights, but she is true to her word and your pup will get home. Sheena is now relaxing in Southern California spending time with our beautiful Boxer and the both are getting along well. If your looking for a great looking POMSKY for a fair deal then Sugar Creek Puppies is your place. Thank you again for our beautiful lil girl.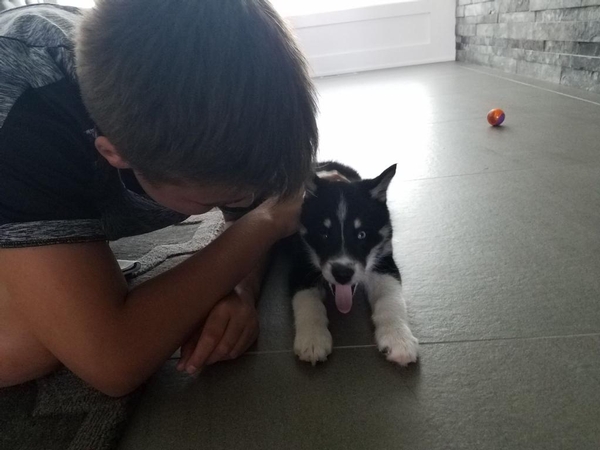 Jen Smith
Summer 2018 - Waukee, Iowa
My experience with Sugar Creek Puppies was incredible! The entire experience was and continues to be top notch! Amy is so genuine, kind, caring and welcoming and their farm/barn is immaculate! Each and every puppy is loved and cared for! Our baby puppy, Shadow, is an absolute blessing! He and my son are best friends and we just love him to pieces. He is adorable and has brought so much love and joy to us! I highly recommend Amy/Sugar Creek Puppies to anyone interested in purchasing an adorable Pomsky puppy!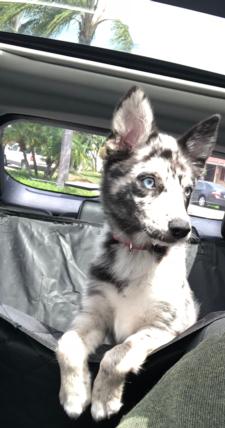 JJ D.
Winter 2018 - Boynton Beach, FL
I would like to take a minute and share my wonderful experience with SugarCreek Puppies and more specifically the owner Amy. From the initial phone call inquiring about purchasing a new Pomsky Amy made me feel comfortable. After speaking with her and doing some research I felt 100% secure in my decision to buy my new little girl from her. The individual attention that Amy provided was amazing. After selecting my little girl from the litter, Amy made me feel like I was involved every step of the way. Providing me with weekly photos, videos and updates, I truly felt like I was a part of my little girls journey the entire 2 months leading up to her arrival. Amy even started calling our girl by the name we had picked out for her, "Whitewalker." Since we lived so far away, it was necessary to fly Whitewalker on American Airlines. While this made me nervous, Amy assured me that she would be fine and well taken care of. Whitewalker arrived in perfect condition, eager to meet us and see her new home. Since we got Whitewalker our lives have been amazing. The daily love and affection we receive from her is priceless. We have had Whitewalker for a month now and Amy is still making herself available for any questions or tips I may need or even just a updated pic :) I just want to say thank you to everyone at SugarCreek Puppies. Thank you for all that you do to bring these amazing puppies into our lives.